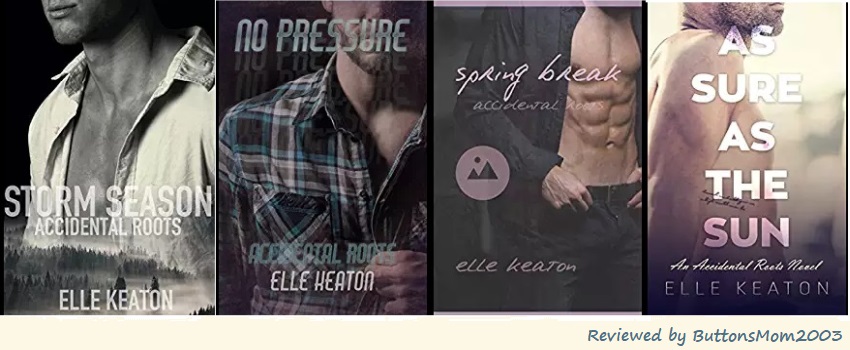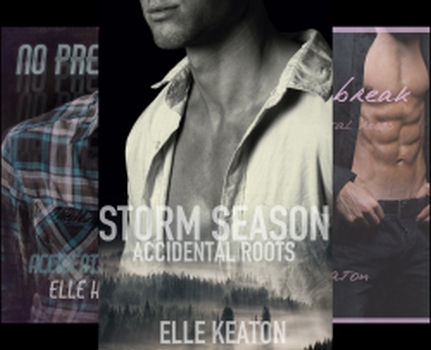 Accidental Roots Series Review By

Elle Keaton

Genre: Contemporary Romance, GLBTQ, MM

Released: March 2017, June 2017, September 2017

Publisher: Self-Published

Series: Accidental Roots, Books 1-2-3-4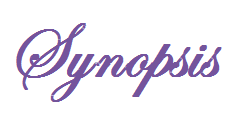 Book #1 –Storm Season
They say you can't go home again, Adam Klay doesn't intend to until the death of his father, a famous artist, forces his return to Skagit, Washington. Cleaning up his father's chaotic life was never on Adam's bucket list. Worse, Adam finds himself inexplicably drawn to the elusive, terminally-clumsy, gorgeous, Micah Ryan. No way is he getting involved with someone from his hometown, he's always insisted the best view of Skagit was in his rearview mirror.

Micah Ryan has been coasting on auto-pilot since his family was killed in a car accident a decade earlier. He runs a web business and has an irritable cat. He hardly leaves his house, unless it is for his afternoon espresso. His world tips upside down when Adam Klay rolls into town. For the first time in years, he feels alive. Unfortunately, Micah's return to the living has been noticed and is not appreciated.

Someone has a secret. Someone is exploiting the vulnerable youth population in Skagit. Teenagers are disappearing, young women turning up dead, the dirty secrets of Skagit are surfacing.

Book #2 – No Pressure
Home is where the heart is, right? Except when it's not. Not when you're afraid for your life.

Joey James has given up on finding his 'Prince Charming'. There is no such thing, he needs to be realistic about his chances of a lasting relationship. A chance encounter with a former school mate at the local grocery store changes everything-maybe. Before Joey can decide what to do about it, he is swept into a terrifying scheme. Forced into helping a dangerous stranger in exchange for his family's safety, Joey begins a perilous journey into the criminal underbelly of Skagit. He will do whatever is needed to protect his family.

Buck Swanfeldt had a secret crush on Joey James in high school. Social anxiety and a two-year age difference made it impossible for him to approach Joey then. Life since high school has been challenging. And lonely. Eight years later, fate brings them together and Buck decides to act. He utterly fails. He would have left it at that, except fate seems to be intent on pushing Joey in his direction, and clearly Joey needs someone at his back.

Dark, sordid secrets hiding in Skagit are bubbling to the surface, danger lurks in unexpected places. Buck has never been anyone's hero but something about Joey has him throwing caution to the wind. Together the two men take on a dangerous force greater than themselves. But sometimes our worst enemy is ourselves.

*warning may need a tissue! For audiences 18+
*ends with a mystery solved and an HEA, no cliff hanger.
Intended for mature audiences only 18+

Book #3 – Spring Break
Sometimes a guy needs a break. Carroll Weir got one–but it wasn't what he expected.

All he dreams of is escaping dreary, damp Skagit, WA, for a warmer climate. Instead, Federal Investigator Carroll Weir is assigned to a cross-agency case involving geoduck smugglers and a very dead Fish and Wildlife Detective.

Sterling Bailey, the regular bartender at the Loft, likes to think of his customers and employees as family since he doesn't have one of his own. Exhausted and tense, Carroll Weir wanders in one night and one thing leads to another. All in a night's work, right?

Who murdered Fish and Wildlife Detective Peter Krystad? Does the killer have Weir in his sights? Things begin to heat up between them but Sterling and Weir will have to move past their personal history in order to change the course of their future.

The spark burning between them is hot enough to scald unless they're careful somebody's going to get burned.

*HEA No cliffhanger
*Intended for a mature audience, 18+

Book #4 – As Sure As The Sun
The universe is trying to tell Sacha Bolic something. A fire escape collapses under him, he lands in crap, and a killer barely misses his target… all in the same few seconds. That's on top of a long list of mishaps and job dissatisfaction. Not one to ignore signals when they're shoved in his face, Sacha retires and uses his savings to buy an old building in Skagit, Washington. With a little help from DIY videos, he's going to bring it back to its former glory. And, yeah, it's a metaphor. If he makes one change, others will follow…

Seth Culver avoids entanglements, romantic or otherwise. Who needs them? He's learned the hard way that people betray you or leave. Still, Seth finds people compelling. He kind of collects them, learning their secrets before letting them go their own way. His commitment to no commitments may have met its match in Sacha. Handsome and hot, Sacha seems to offer a permanence that scares Seth more than anything ever has. Seth will have to decide if he's going to grab life by the balls or keep watching from the sidelines.

A box of inconsequential belongings hidden for decades in the old building hints at lives imagined but not lived, reminding them both there are no guarantees in love, or this thing called life.

A standalone in the Accidental Roots series, HEA, and hot m/m. 18+
Reviewed by ButtonsMom2003
Fantastic Series

I was supposed to review this series back in the fall of 2017 but things got a little crazy and I just didn't get it done, my apologies to Elle Keaton. Late last week I finally started reading book 1, Storm Season, and I couldn't put it down. I quickly followed up by reading books 2, 3 and 4 over the next few days. Note: All of the books are linked by place and characters but books 1 and 2 need to be read in order. The romance for the main characters in book 1 is resolved but not the mystery that much of the story is about; that will conclude in book 2.

I was intrigued by the mystery and suspense in books 1 and 2 and I loved all of the characters. The MCs (main characters) for book 1 are Adam and Micah. Both of these men are somewhat broken but manage to find happiness with each other. Adam is a federal investigator who returns to Skagit to settle up things after his estranged father's death. Micah stayed in Skagit after his mother, father and sister were killed in a car accident. After the accident he became somewhat of a recluse. When he meets Adam at a local coffee shop he feels something that he hasn't felt in a very long time – alive. Mystery and suspense are plentiful in this story.

Book 2, No Pressure, is about Joey and Buck. Joey is a nurse and Buck runs the local auto repair shop. Joey becomes sucked into the mystery that started in book 1 when his family is threatened. Even though Joey and Buck hardly know each other, Joey reaches out to Buck when he desperately needs help. Buck has had a secret crush on Joey for years and he would do just about anything to help him. This story got to me on so many levels. The mystery from book 1 is concluded. This story contains references to human trafficking and child pornography but they are not gratuitous and are necessary for the storyline.

Book 3, Spring Break, is about federal investigator Carroll Weir and Sterling Bailey who runs The Loft, a local gay bar. This book begins a new mystery and is very suspenseful. Weir is assigned to investigate the death of a Fish and Wildlife Detective and to find out who is smuggling geoducks (goey-ducks are a type of large salt water clam). After Weir is nearly killed by a hit and run driver, Sterling is enlisted to help him even though they barely know each other. This is a great forced proximity story. The mystery is solved and there is no cliffhanger.

Book 4, As Sure As The Sun, is about former U.S. Marshal, Sacha Bolic and Seth Culver. We met Seth in book 1 and Sacha in book 2. As Sure As The Sun doesn't have the same suspense/tension element that the first 3 books have but it does have a nice mystery concerning a very old picture of two men together. Sacha has retired as a U.S. Marshal after too many close calls. He's lived his life as a closeted gay man and is ready to live life as his true self. He was undercover in Skagit for 2 years and grew attached to the area. He purchased an old building and wants to restore it to it's former grandeur. When Sacha goes for coffee, after working on tearing out plaster, etc. in his building, he doesn't realize that he looks like the walking dead, with plaster dust and blood all over him. Seth sees him and thinks he needs help. Seth ends up offering Sacha a place to clean up and do laundry. The conflict in this story is that Sacha is finally ready to live the life he wants but Seth is afraid of long-term relationships. Everyone he has ever loved has left him and he won't open himself up to that kind of hurt again.

Each of these stories captured my attention right from the start. Ms. Keaton's writing paints a beautiful picture of Skagit and the Pacific Northwest. I wish it was a real place that I could visit when I'm in the area this coming June.

If you like mystery, intrigue and smoking hot romance, I don't think you can go wrong with this series. I'm looking forward to reading book 5, River Home, which releases February 16, 2018.
♥♥♥♥♥
O Factor: Scorcher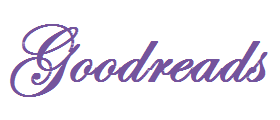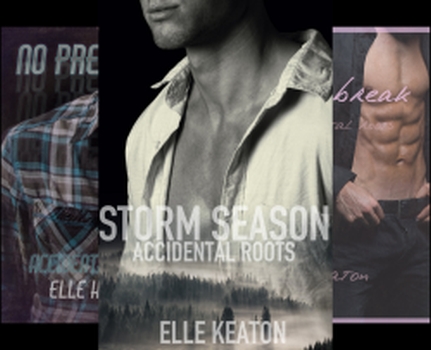 ♥ Amazon US/KU ♥ Amazon CA ♥ Amazon UK ♥


Author, photographer, rare Pacific Northwest Native, Elle grew up in Seattle, WA., with the Cascade Mountain range to the east and Olympics to the west. Less than two hours northwest lie the majestic San Juan Islands. To the northeast is the Methow Valley and the scrub deserts of Eastern Washington. Geography ripe with material.

A graduate of Western Washington University, Elle has a BS in biology which taught her to be tenacious. The closest she has come to biology since then is having two kids. Like an experiment or something. She's lived in four states (none of which were gaseous), London England, and Hong Kong; always knows what time it is, and has no problem finding parking even in the most difficult places. Cannot balance a checking account.

Elle's series Accidental Roots, mostly set in the Skagit Valley of Western Washington, will make its debut spring of 2017. Storm Season is tender, sometimes irreverent, full of nosy neighbors and help when the hero didn't think he needed it. Writing has always been a passion but not something she was able to take seriously until recently. Now her head is full of ideas and not enough time in each day.

Original publicity for book 3 hosted by Signal Boost Promotions