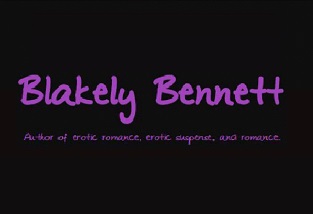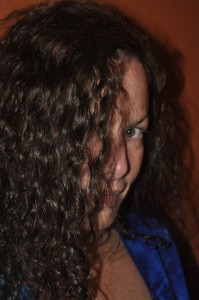 Author's Bio:
Blakely Bennett grew up in Southeast Florida and has been residing in the great Northwest for over nine years. She graduated from Nova Southeastern University with a degree in psychology, which accounts for her particular interest in crafting the personalities, struggles, and motivations of her characters. She is an avid reader of many genres of fiction, but especially erotica and romance. Writing has always been her bliss. She is attracted to stories of self-struggle and ultimate recovery.
Blakely is married to a wonderful, loving and supportive husband, also a writer, who helps to keep her grounded. She is a mother, a communitarian, a lover of music (always on while she is writing—thank you, Pandora), and a good friend. An advocate of love and female empowerment, she is a facilitator for a women's group. She loves to walk and hike for exercise and finds that, since moving to Seattle, WA, she is now one of those "crazy" people who walk in the rain.
She is available to appear on your radio show, TV show or podcast. She also loves the color purple.

Today, I'd like to welcome Blakely Bennett, author of erotic romance, erotic suspense, and romance.  Today we are talking about her erotic romance series Bound By Your Love.  I adore all three books currently in the series:  Stuck In Between, Bittersweet Deceit, Blue Persuasion.   Links to my reviews are below as well.
DEB:
Blakely, you have a degree in psychology, which is clearly evident in your wonderfully character driven novels. What prompted you to write the Bound By Your Love series?  Is there anything in the series taken from real life or is it all purely from your imagination?
BLAKELY:
I don't plan my stories because I feel it's more of a surprise not only to me but my readers as well. I wanted to write a romantic series about a group of friends and that was the jumping off point. Everything is fictitious with the exception of certain aspects of Bond's character. I dated a "Bond" in my twenties. He actually had a photo album of women exposing their breast for the camera and wanted me to pose for it. I declined. He also had a wall of sex toys, whips and restraints and LOVED 007. He was an interesting and flawed man and I tried to write that into my Bond character. I did steal Lainie's name from one of my best friends and used her condo as a jumping off point for Lainie's place. And of course, the story is set in South Florida and the places are real.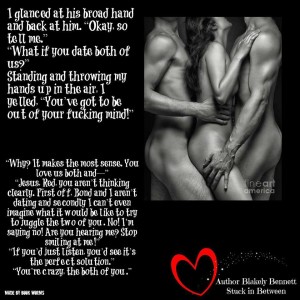 DEB:
The series revolves around a group of close friends.  Did you keep to specific qualities, for plot purposes, when creating each character?  Or did they create themselves and guide the story as you wrote?
BLAKELY:
Oh, the characters surely take over and I don't consciously do anything for plot purposes. I write what I'd like to read and I personally enjoy realism in my stories. Like Stayman's handkerchiefs or Blue's hang ups with her body. I believe we all have flaws, challenges and quirks and much of life is about overcoming them and finding love.
DEB:
Who is your favorite character in the series and why?  Do you have a least favorite character, one that was the most challenging to write?
BLAKELY:
I often find it interesting how the readers respond to the characters in my stories. Everyone seemed to fall in love with Aidan/Red and thought he was the perfect friend/lover.  I personally fell in love with Stayman.  I love his flaws and openness. I also have a real fondness for Bond and all he's been through.  I don't feel one character is more challenging to write than another, however, I do work hard at giving each character their own voice.  Many times when I read stories, there seems to be no difference in speech between the male and female characters.  I sometimes rely on my husband to "butch up" the conversation for the men.  At first I thought Blue was rather bitchy until I got to know her better and fell in love with her too.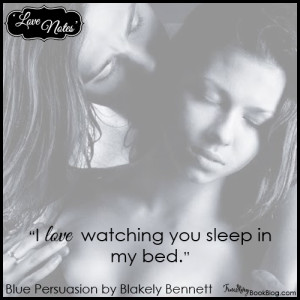 DEB:
Which book is your favorite? Why?
BLAKELY:
Wow, that's a hard question to answer. I think Blue Persuasion is probably some of my best writing.  I love all the books so far in the Bound by Your Love series.  If I have to pick, I choose "Blue".
DEB: 
You've co-written a book with your husband.  Did he contribute ideas to any of the books in Bound By Your Love series?
BLAKELY:
We are both a sounding board for the other.  He definitely makes suggestions and offers his input.  Probably the biggest turnabout from a suggestion of his was in Blue Persuasion.  He felt that Tate should be the more flawed one than Blue, otherwise it would be too much like another Stayman/Lainie. That really changed the vibe of Blue Persuasion.  He suggested that early on and I knew he was totally right and went with it.
DEB:
You mentioned you are currently working on book 4.  Can you give us a hint of who and what it's about?
BLAKELY:
The working title for book four in the Bound by Your Love series is Samantha's Maze.  The story is about Sam, Jacq's sister.  She has a young daughter, lives at her mother's house, and works with Lainie at her Boutique.  She's a recovering addict and has recently turned her life around. She has yet to forgive herself for her past and still has unresolved issues from her father's untimely death. As with all the stories, love is on the horizon but it's unclear if she is ready to let go of the past to open up the opportunity for a loving future.
DEB:
Your blog feature, Blakely's Kinky Korner, is a series of interviews with people who live a BDSM lifestyle.  All three books in Bound By Your Love include lighter aspects of BDSM.  Can you explain your interest in BDSM and why you included it in this series?
BLAKELY:
I find control dynamics in sex very sexually stimulating to read.  And I like every sex scene I write to be different and to move the story forward.  Vanilla sex would get boring and redundant for me to write, scene after scene.  And again, I write what I'd like to read.  I don't live the BDSM lifestyle, but it definitely turns me on to read and  write about it.
A huge thank you goes to Deb and Jean for creating such a great site to feature authors and books.  I'm very honored to be included.  One of the best parts of being an author is the great people I've met along the way just like you gals!
Bound By Your Love Series Facebook page