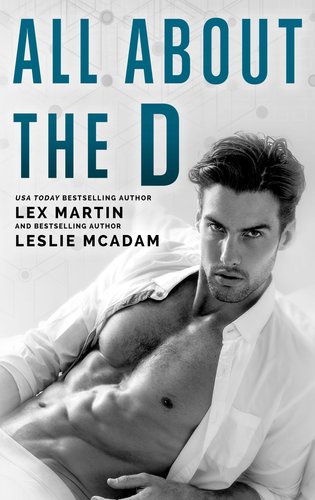 The Best RomCom I've Read All Year!

RELEASE BLITZ
Title: All About the D
Authors: Lex Martin & Leslie McAdam
Genre: Standalone Romantic Comedy
Release Date: May 2, 2017
BLURB
A sexy new romantic comedy from USA Today bestselling author Lex Martin and bestselling author Leslie McAdam…
ALL ABOUT THE D
I'm known for being formal. Meticulous. Professional.
So you'd never suspect I spend my nights photographing my impressive junk for a NSFW blog. Don't roll your eyes. I'm not bragging. I have millions of followers who'll tell you they live for my posts.
I'm like a superhero, saving humanity one dick pic at a time.
Except leading a double life means I need someone to help me protect my anonymity, so that no one, especially my family, ever discovers my online celebrity.
When I call one of the most respected law firms in town, I expect quality legal advice and confidentiality. Not a sinfully sexy attorney whose dangerous curves and soul-piercing gray eyes make me want to personally demonstrate my particular skill set.
I shouldn't be tempted.
Especially when she knows all of my best-kept secrets. But everyone has a breaking point. And I've met mine.
Purchase Links
Trailer
Reviewed by Deb
Best RomCom I've Read All Year!
This book did me in! Did. Me. In. It's ADORABLE! A refreshingly creative story, to-die-for hilarious situations and dialogue, and absolutely amazing characters. It's a total package RomCom that is destined to be a classic.
Evie and Josh are gorgeously written and so real you'll want to hold onto them forever. I loved their totally believable, melt-your-panties and make you swoon, journey so obviously created with love.
Leslie McAdam and Lex Martin need to write another book, stat! This is one awesome writing duo who click together perfectly. All About The D is smooth like good whiskey, bubbly like champagne and you'll be drunk on this beautiful story for days!
♥♥♥♥♥
O Factor: Scorcher
Lex writes contemporary romance, the sexy kind with lotsa angst, a whole lotta kissing, and the hot happily ever afters. When she's not writing, she lives a parallel life as an English teacher.
She loves printing black and white photos, listening to music on vinyl, and getting lost in a great book. Bitten by wanderlust, she's  lived all over the country but currently resides in the City of Angels with her husband and twin daughters.
Lex is represented by Kimberly Brower of Brower Literary & Management.
Leslie McAdam
Leslie McAdam is a California girl who loves romance, Little Dude, and well-defined abs. She lives in a drafty old farmhouse on a small orange tree farm in Southern California with her husband and two small children. Leslie always encourages her kids to be themselves – even if it means letting her daughter wear leopard print from head to toe. An avid reader from a young age, she will always trade watching TV for reading a book, unless it's Top Gear. Or football. Leslie is employed by day but spends her nights writing about the men you fantasize about. She's unapologetically sarcastic and notoriously terrible at comma placement.
Always up for a laugh, Leslie tries to see humor in all things. When she's not in the writing cave you'll find her fangirling over Beck, camping with her family, or mixing up oil paints to depict her love of outdoors on canvas.