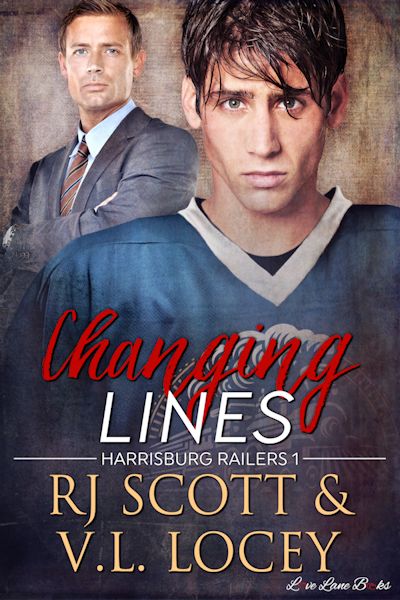 Genre: Contemporary, Sports Romance, Hockey, GLBTQ, M/M
Released: September 27, 2017
Publisher: Love Lane Books Ltd.
Cover Design: Meredith Russell
Series: Harrisburg Railers, Book 2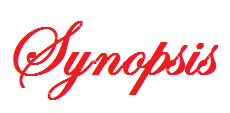 Layton wants success, Adler wants family, how can love make both these things possible?
Layton Foxx works hard for what he has. The condo, the career, the chance to make his mark, is all down to the sacrifices he has made. With tragedy in his past, he doesn't want or need love. Then he meets Adler Lockhart, the extroverted, sexy winger for the Harrisburg Railers and abruptly he can't avoid love even if he wanted to.
Adler Lockhart has had everything handed to him his whole life. Cars, villas, cash, college tuition at the finest Ivy League schools. The only things he doesn't have are parents who care or the love of a good man. Then Layton walks into his privileged life and shows him what real love can be like.
55,700 words.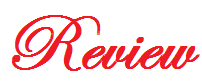 Reviewed by ButtonsMom2003
I love this book!
First Season is the second book in the Harrisburg Railers series co-authored by RJ Scott and V.L. Locey. You don't need to have read book one to enjoy this one but you should because it's so good.
Layton Foxx is hired by the Railers hockey team to help manage any fallout from two members of the team (a player and a coach, Ten and Jared from book one) coming out as a couple. He's confident in his ability to do his job by using social media and working with the other players on how to handle this situation. He's not prepared to be so attracted to a player on the team. A player who at first seems to be a bit of a jerk with no filter for what comes out of his mouth.
Adler Lockhart can't help his attraction to the spin-doctor the team has hired. He knows that he doesn't filter what comes out of his mouth the way he should. He resents that Layton assumes he's homophobic and demanded that he attend sensitivity training, so he soon lets him know that he's gay, too.
Wow, this book kept me glued to my e-reader from the moment I started it until I finished. Layton has a lot of baggage and big, tough jocks are something he usually avoids. As he and Adler grow closer he knows that his secret must come out.
I loved everything about this story. Adler buys Layton gifts and this makes Layton uncomfortable; but Adler doesn't know any other way to show he cares. His parents were absent from his life while he was growing up; they even want him to call them by their first names. Adler knows he has to go slow to convince Layton that he's serious about him and so he doesn't scare him off.
The chemistry between these two is really good. The writing of these two co-authors is even better/smoother in this book than it was in book one. My emotions were all over the place reading this one. There were moments that brought tears but there were also light-hearted times that helped balance things out. And, of course, there is an HEA. I am so looking forward to reading more books in this series!
♥♥♥♥♥
O Factor: Scorcher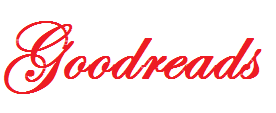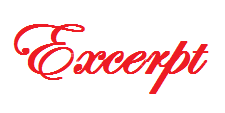 "Guys," I said calmly, even though the sight of these big men waiting by my car was enough to have me feeling anxious as memories of old times poked at me. Not to mention that Stan had his thick arms crossed over his chest and looked like he wanted to go to war with me. I recognized two of the others with him—Coach Benning looking grim, Arvy grinning at me—and the other man was the guy from the bathroom.That was Adler, the one the captain, in my interview with him that morning, had chosen to highlight as "not exactly vocally critical nor entirely supportive."
I was scarlet and I knew it, and Adler smirked at me. Asshole.
He wasn't the first person to smirk at me, and he wouldn't be the last. Adler Lockhart was a good-looking man, but then a lot of the players on this damn team were hot and right on to burning. Take Arvy with his goofy smile and his long wavy hair, or Coach Madsen with his intense blue stare and air of authority.
"Little bit talk," Stan said, his voice loud and booming in the cavernous underground parking.
I glanced from Stan to the others. I wasn't sure Adler wanted to talk. He was still smirking, but at the same time he looked like he was trying to edge away. The only thing stopping him was that he was pinned between Stan, Arvy, and my car.
I glanced at my watch, like I had to assess if I had the time to stop and talk. Of course I had time. Lots of time. All that was waiting for me at my place was takeout and a night of reading my notes. Oh, and catching up on the hundred or so Facebook messages from my family.
"I can give you five minutes," I said, to qualify the importance of my time and reinforce my status. It was vital that I didn't join in with discussions outside the official meetings; I had to stay outside the hockey circle, so that I could maintain a perspective on how things were playing out. Informal meetings didn't get things done.
Stan pulled aside his shirt and showed me a tattoo. I had to peer closely, because I wasn't sure what I was looking at, or even why it was being shown to me. It looked like a cartoon character; a Pokémon or something.
"Hulk," Stan said, and looked at me expectantly like I was supposed to understand a word. I don't speak any Russian, though, so I looked at Coach for help.
"What he's saying," Coach Benning said, "is that he likes Ten, a lot, and that Ten and he had tattoos the same day, and that if you end up hanging Ten out to dry, then he will have something to say about it and go all Hulk on your ass." The coach's tone was easy, but there was a thread of steel in there.
"You got all that from one word?" I asked, and looked up at Stan, who was still scowling.
Coach only smiled. "He's a man of few words. English ones, anyway."
Stan clapped a hand on my shoulder, and jeez, he was one strong man. For a split second, fear skittered through me, but I pushed the fear back down where it belonged. No one here was going to hurt me.
I edged out of Stan's reach and offered up my most reassuring smile. Stan looked at me, and then he smiled as well.
Seemed like we had an agreement going.
"Are we done talking about cock now?" Adler said loudly, breaking the accepting vibe in the small group. He underscored the words by grabbing suggestively at his groin. "Unless we're whipping them out."
"Jesus Christ, Ads," Arvy snapped, and elbowed him.
Adler grinned. "All I'm saying is some of us have actual sex to go home to and don't spend all day jawing about it."
Then he shoved his way past Arvy, who shoved him back before letting him go.
"Asshole," Arvy muttered, but it wasn't said with heat. I exchanged glances with him, and he gave that single-shoulder shrug of "What can you do?"
I mentally added Adler to my list of concerns.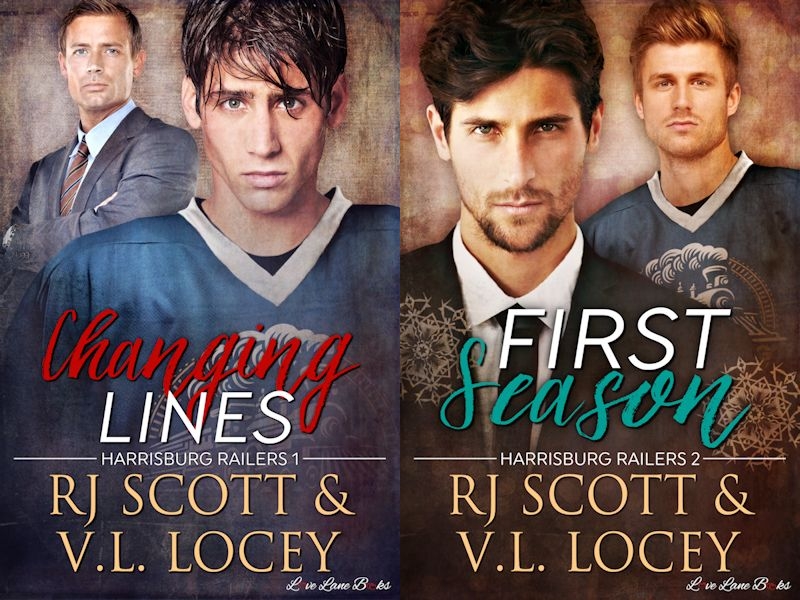 ♥ Amazon US ♥ Amazon CA ♥ Amazon UK ♥ Barnes & Noble ♥

Follow The Tour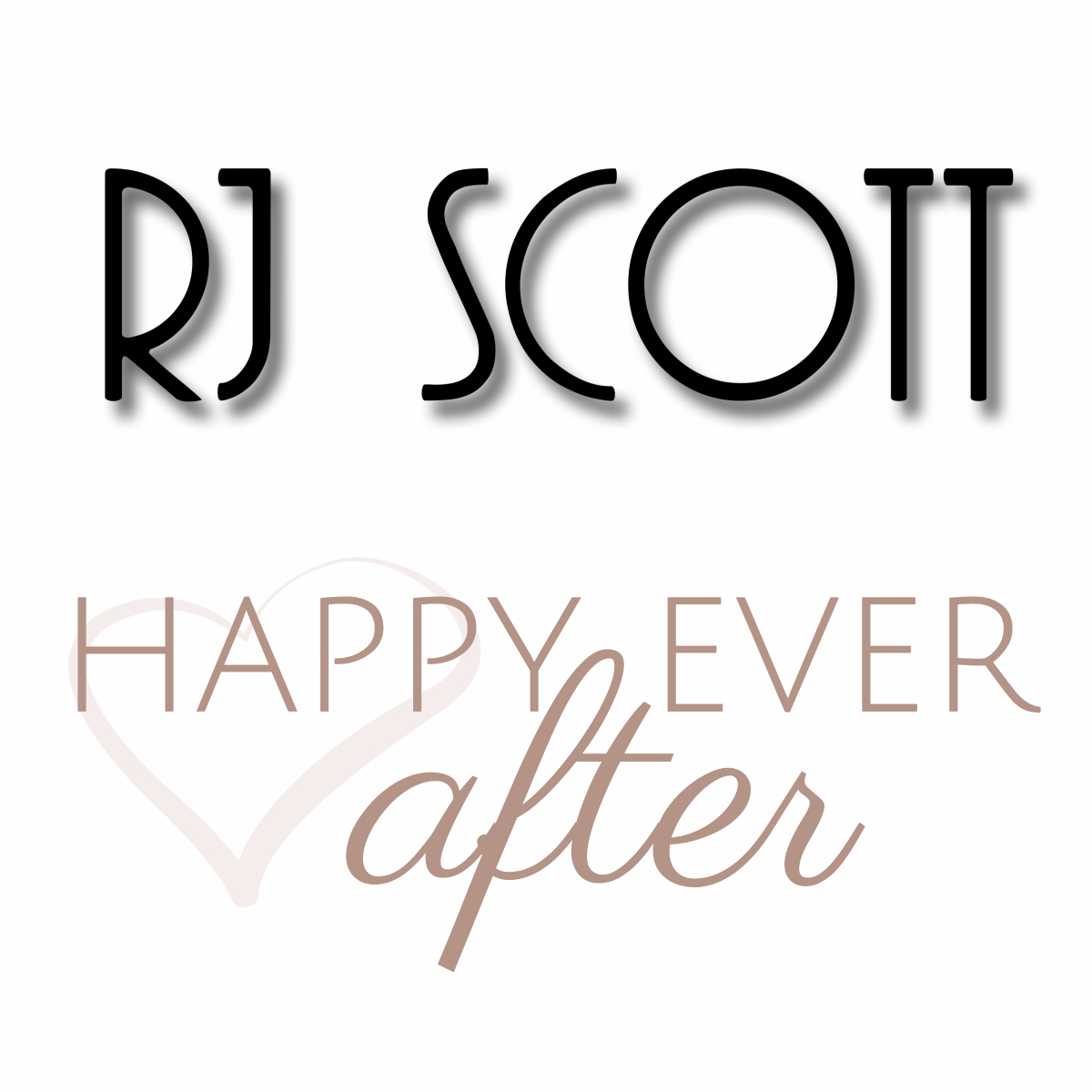 RJ Scott is the bestselling author of over one hundred romance books. She writes emotional stories of complicated characters, cowboys, millionaire, princes, and the partners who get mixed up in their lives. RJ is known for writing books that always end with a happy ever after. She lives just outside London and spends every waking minute she isn't with family either reading or writing.
The last time she had a week's break from writing she didn't like it one little bit, and she has yet to meet a bottle of wine she couldn't defeat.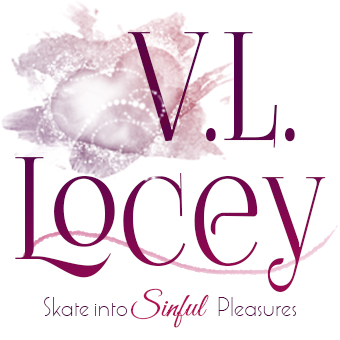 V.L. Locey loves worn jeans, yoga, belly laughs, walking, reading and writing lusty tales, Greek mythology, the New York Rangers, comic books, and coffee. (Not necessarily in that order.) She shares her life with her husband, her daughter, one dog, two cats, a flock of assorted domestic fowl, and two Jersey steers.
When not writing spicy romances, she enjoys spending her day with her menagerie in the rolling hills of Pennsylvania with a cup of fresh java in hand. She can also be found online on Facebook, Twitter, Pinterest, and GoodReads.

Hosted by Signal Boost Promotions