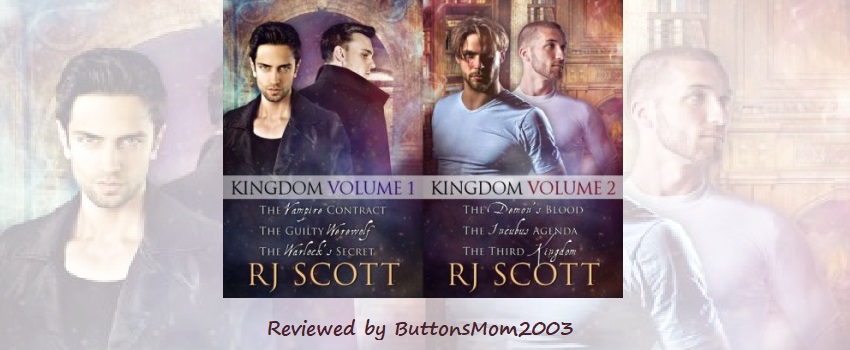 Fantastic world, fantastic stories!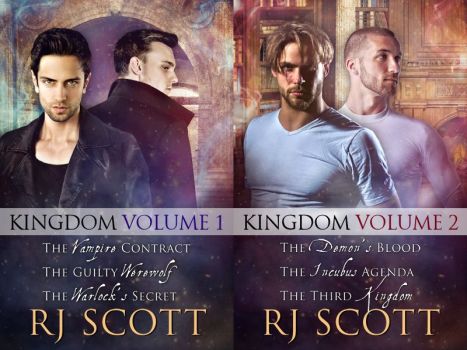 Kingdom Volumes 1 and 2
By
RJ Scott
Genre: Paranormal Romance, GLBTQ, MM
Released: Out Now!
Publisher: Love Lane Books Ltd.
Series: Kingdom, Book 1 & 2
Cover Design: Meredith Russell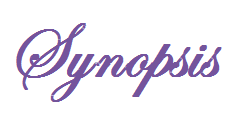 The Vampire Contract
A vampire guilty of murder on the run from justice to prove his innocence. A werewolf sent to retrieve him with one thought – that only the guilty run.
The Guilty Werewolf
Declan Finlay is hunting the guilty werewolf, his friend Connor. The incubus, Levi Tiernan, is his companion on the hunt. If Declan doesn't track and kill Connor, then Levi will.
The Warlock's Secret
In a world where magic is rare, Joseph Jamieson is a holder of power. Orophin Tiwele, or Phin to his friends, is the son of the Elf King and has magic of his own. The rules say two supernatural beings with magic cannot be together and Joseph and Phin have lived by that rule despite their attraction to each other.
The Demon's Blood
When Simeon, a mountain lion shifter meets Asher, a blood demon, there is instant attraction. But, how can they act on the way they feel when there is an entire kingdom at stake.
The Incubus Agenda
Nicholas Tarrant has worked hard for his position on the Werewolf Coalition. Having access to whatever is happening inside the Coalition is important to the Underground and he's good at blending in.
Brody Lennox is sent to Glitnir to broker talks of peace but is dragged broken and bloody into the Council chambers. Ludvik wants him killed as a traitor.
Can Nicholas save Brody? Or is Brody too broken to be saved?
The Third Kingdom
The story that began as a simple Retriever case, has become the tale of the fight against a thousand years of evil.
The wolf shifters have Niceros to take down. The Vampire Twins have to deal with Cassius. The Second Kingdom is in disarray and Simeon, Asher and Phin are desperate to calm the unrest.
An alpha needs to accept his role, a blood demon has to become the King he was meant to be, and the Vampire twins have to end the war.
Against all this, Reuben and Ethan, lovers separated for a millennium, are thrown back in to a war to end the poison that is Ludvik Peitrol.
In a battle on the barren fields of Arberfan is where this story will end.
Reviewed by ButtonsMom2003
Fantastic world, fantastic stories!
The Kingdom where the books in this series is set is comprised of all sorts of supernatural beings. I've never read any stories that combine all of the different beings found in this series: shifters, vampires, a blood demon and an incubus. RJ Scott seems to be one of those writers who can write in any genre and do it well.
Kingdom Volume 1:
The Vampire Contract – 5 stars
In The Vampire Contract wolf shifter, Connor Strand ,is tasked with finding Micah Jamieson, a vampire who is accused of killing his husband. Micah needs to find his twin, Joseph, if he is to be cleared of murder.
The above seems like a very simple explanation of what is a much more complicated story. Connor's wolf has decided that Micah is his mate and Connor just can't wrap his head around that. Not only is Micah a vampire he is also a murderer. I loved this enemies to lovers story – and boy were they enemies – in the beginning they nearly kill each other during a fight.
Connor and Micah get their HFN in this story but it's only the beginning of the underlying mystery of who killed Micah's husband and what is happening in the ruling council governing the supernatural beings.
The Guilty Werewolf – 5 stars
This story focuses on Declan Finlay, a wolf shifter, and Levi Tiernan, an incubus.
Levi's parents committed suicide – or so he thought. When evidence points toward something more sinister he wants to join the resistance so he can find out what actually happened. He makes the mistake of telling Declan that he thinks Glitnir is corrupt. Declan is a Retriever for Glitnir and he doesn't want to believe what Levi is saying.
This is another enemies to lovers story with Declan and Levi being tasked to find Connor Strand who didn't return to Glitnir when he should have. The two must work together and put their feelings aside.
The Warlock's Secret – 5 stars
OMG! I loved this story but it was so hard to read in places. Fair warning one of the MCs gets tortured – a lot – but it all works out in the end. More of the mystery of what's going on in Glitnir is unraveled but not everything is solved yet. Joseph finally takes center stage in this story. He is in love with Phin, and Phin with him, but Joseph believes it will bring about mass destruction if the two of them become mates.
Kingdom Volume 2:
The Demon's Blood – 5 stars
We met the characters of feline shifter Simeon Blue and half-breed blood demon/elve Asherkan Iblis (Asher) in Kingdom Volume 1 as they played supporting roles. In The Demon's Blood this unlikely pair becomes lovers and Asher takes his rightful place in the Second Kingdom. Together they must convince their separate groups of people to become part of the Resistance.
The Incubus Agenda – 5 stars
Wolf-shifter Nicholas Tarrant is a politician, newly elected to the Werewolf Coalition. He's not a fighter but he knows he has to help incubus Brody Lennox escape from being tortured to death. Imagine his surprise when his wolf decides that Brody is his.
The Third Kingdom – 5 stars
Everything finally is revealed and the answers we've been waiting for are provided. While there were times as I was reading these stories that I wondered if there really would be a good outcome for everyone; I shouldn't have worried. RJ Scott always gives us an HEA.
I really didn't expect to enjoy all of the fantasy stuff in these stories that much but RJ's writing really sucked me in and kept my attention throughout the entire series. As I said above, she seems to be able to write anything and so far I haven't read anything from her that I didn't enjoy immensely.
♥♥♥♥♥
O Factor: Scorcher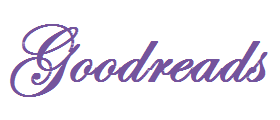 Add to your TBR on Goodreads.
Kingdom Volume 1 and Kingdom Volume 2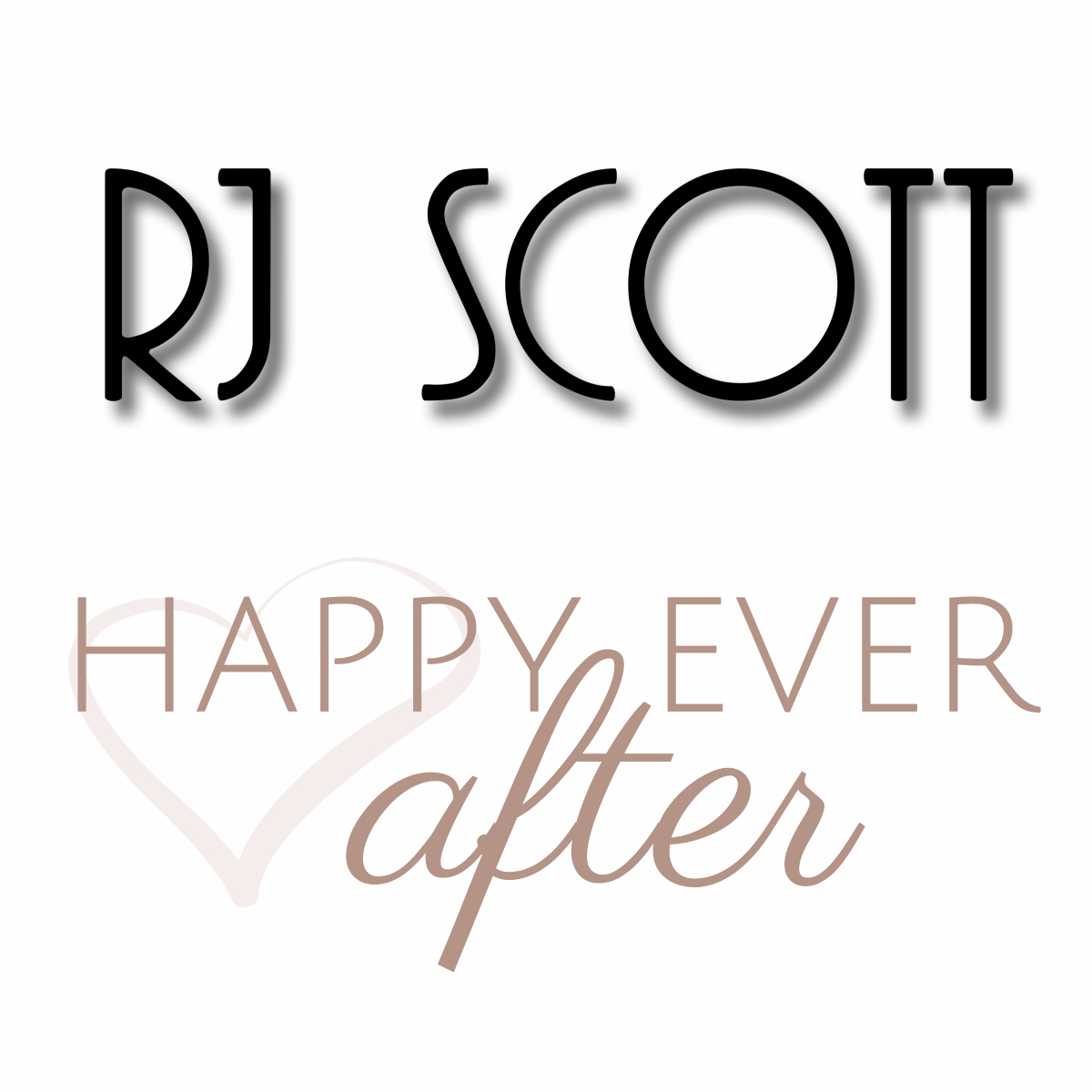 RJ Scott is the bestselling author of over one hundred romance books. She writes emotional stories of complicated characters, cowboys, millionaire, princes, and the partners who get mixed up in their lives. RJ is known for writing books that always end with a happy ever after. She lives just outside London and spends every waking minute she isn't with family either reading or writing.
The last time she had a week's break from writing she didn't like it one little bit, and she has yet to meet a bottle of wine she couldn't defeat.