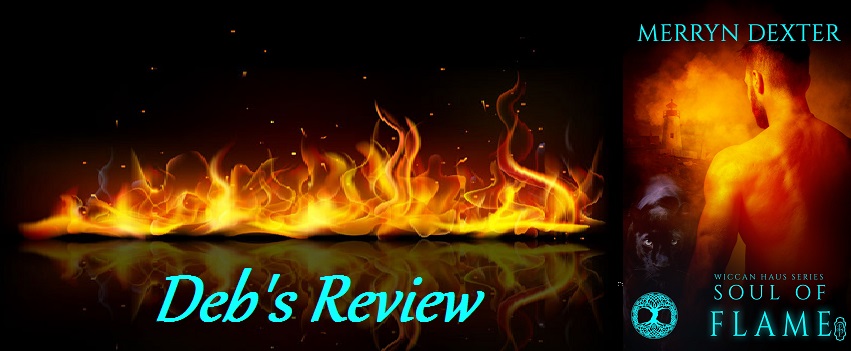 Merryn Dexter's addition to the Wiccan Haus series is amazing!
Paranormal Romance
Released June 10, 2016
Publisher: Decadent Publishing
Series: Wiccan Haus, Book 15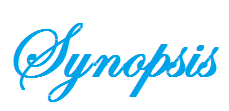 Exiled from her clan by a suspicious queen, fire fae Ceara finds peace among the humans and a role within an elite rescue team. Following a tragic accident, the deaths of her team and the loss of her powers, Ceara is sent to the mysterious resort of Wiccan Haus to heal.
Kidnapped, abused and cursed on escape, black jaguar Shimeer Neguar is desperately seeking the cure which will re-unite him with his shifter half. Wiccan Haus is his last hope, but he is horrified to discover his nemesis is also a guest on the island.
When a huge black jaguar attacks Ceara, she hopes for death and an end to her suffering but the shifter fails to bite. The staff on the island want him banished, but understanding Shim has been the victim of another fae, Ceara intercedes on his behalf and he is permitted to stay, as long as he stays away from her.
The smoke and spice scent of the fae is driving Shim crazy and he can't keep away from her. Can he reconcile his feelings and the Fates' desire for them to mate with the fact that she is the image of the woman he loathes?
Ceara begins to fear the worst, the magnetic shifter who haunts her thoughts and inflames her passion is the key to a prophecy that threatens her very existence.
Can two broken souls find healing and love at Wiccan Haus or is their fated union the key to their destruction?
Reviewed by Deb
Merryn Dexter's addition to the Wiccan Haus series is amazing!
I think I've become a Merryn Dexter addict! She burst onto the shifter scene with a stunning debut novella, A Mate's Healing Touch ( part of the Black Hills Wolves series), followed that up lickety split with A Mate's Redeeming Touch, and has now suddenly branched out to two more collections; the Blue Moon Rising series and the Wiccan Haus series. Wow! As we see more of these collections by varied authors my skepticism has faded away. I wasn't sure that the different author voices and story themes would blend well. I was so wrong! And Ms. Dexter is a fantastic addition. She has a knack for tossing us head first into the action and keeping us riveted. Her recipe for crafting the perfect novella remains consistent; fast-paced, tightly written, dashes of humor, just the right amount of intrigue and danger. One would think, "How is it possible to create shifter characters that aren't the same old?" Well, she does it, and makes us fall in love with them each time. And the chemistry? Shut the door! Because after reading Merryn's novellas you'll be a tad bit worked up, if you know what I mean.
Soul of Flame is in the Wiccan Haus series, one I've not yet read. Each novella is a standalone, however it's my understanding that the characters do appear throughout the other stories to some degree. It's been quite some time since I've read paranormal other than shifter stories, but I love the idea of this place! Located on a mysterious island, the Wiccan Haus is a resort for both humans and paranormal creatures. For the paras, it is a place of healing and recuperating. And often a last ditch effort to save a cursed, wounded, or broken soul. Such is the case for both Ceara, a fire fae, and Shimeer a jaguar shifter. Ceara is a tough cookie who has recently experienced devastating loss. She cannot forgive herself for what happened to her human friends and, if she can regain her powers, whoever orchestrated the tragedy will pay. Shimeer is desperately trying to regain his shifter half after having been held captive. He's slow to trust, especially when he sees Ceara's likeness to the one who tortured him, and he's bent on revenge.
The synopsis for Soul of Flame is the perfect run down on the plot, so I won't give you a repeat. What I will tell you is that, for a quick-read novella, the characters are extremely well developed. Ms. Dexter does an amazing job weaving in background info about Ceara and Shimeer so that we not only understand their plight, we vividly feel their anger, despair, and yes, mating lust. The descriptions of the island, the resort, and the healers are rich and beautifully detailed. Ms. Dexter has proven she knows her way around a shifter story. And with this novella she can add the fae to her resume of paranormal expertise. Soul of Flame is yet another fantastic, imaginative, sexy, and well-written escape from your dreary reality. Keep 'em coming, please!
♥♥♥♥♥
O Factor:  Spicy
Add to your TBR on…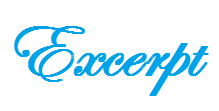 A rustle in the grass disturbed her. She raised her hand to shield her eyes. The sun shone high overhead now, dazzling her. Sitting up, she faced the noise and frowned at the tall man prowling through the meadow in her direction.Jet-black hair lay close to his scalp, and his golden-brown skin glowed in the sun. His body flowed with the inborn grace of a shifter, and thick corded muscle packed his shoulders and arms. Dressed in a white T-shirt and cargo shorts, his feet bare, he ate up the distance until he paused at the edge of the circle. The lines feathered around his eyes and two deep grooves etched between his dark brows spoke of age and experience. A scruff of beard graced his jaw and upper lip, flecks of silver glinting in the bright sunshine. His jade eyes gave her the final piece in an unwanted puzzle. The jaguar.
Although he remained outside the circle, his presence unnerved her. The hairs on the back of her neck bristled, things long dormant stirring deep in her belly. Rising to her feet, she drew upon every harsh lesson learned at court. Women of the Emerald did not get intimidated by walking beasts—no matter how attractive. Not possible.
His gaze traced over her naked form, she fought the urge to preen beneath his attention.
"You were told to stay away from me."
"I was." His deep voice rumbled in his chest, and her nipples pebbled in response.
Words flooded her mind. Primal, base, earthy. Nothing like the preening fools at court nor the softer humans she'd met. Hard, strong, resilient. A man worthy to stand beside the daughter of a queen. His presence prickled over her skin like fireflies dancing in a dusky evening sky.
Shifting Hearts by Dominique Eastwick, Book 1
A Man Worth Fighting For by Sara Daniel, Book 2
An Apple Away by Kate Richards , Book 3
Siren's Serenade by Dominique Eastwick, Book 4
Psychic Lies by Sara Daniel Book 5
Unveil My Heart by Nya Rayne, Book 6
Finding Her A Muse-ment by Rebecca Royce, Book 7
Guarding His Heart by Carolyn Spear, Book 8
Lifebound by Leigh Daley, Book 9
The 13th Guest by Rebecca Royce, Book 10
A Bride Worth Fighting For by Sara Daniel, Book 11
Sorcerer's Legacy by Carolyn Spear, Book 12
Claiming Trinity by Kali Willows, Book 14
Soul of Flame by Merryn Dexter, Book 15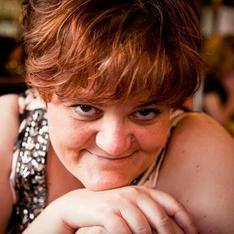 Merryn Dexter is a military spouse who, after a varied employment career (from selling sandals to old ladies with bunions to being a health and safety coordinator for a construction company), is thrilled to be pursuing her dream career as a romance writer. She likes The Winchesters, Spike, Hotch, Loki and watching complicated European Noir. Her hobbies include crying at books, crying at movies, crying at tv serials (there's a theme!) and believes all stories should have a Happy Ending.