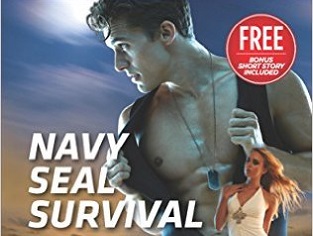 Hot SEALs! Strong heroine!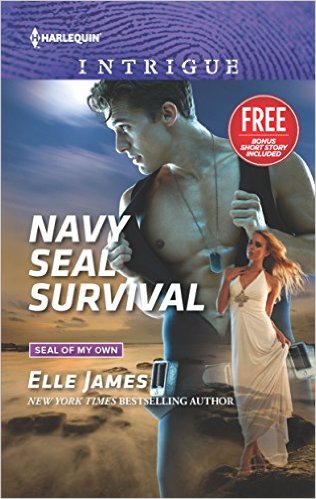 Navy SEAL Survival By Elle James
Romantic Suspense
Released March 1, 2016
Harlequin Intrigue
Series: SEAL of My Own, Book 1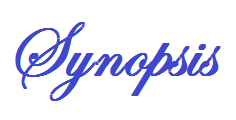 A job only a SEAL could do
After feeling the heat in Honduras cleaning up a terrorist training camp, Duff Callaway is ready for some serious chilling in Cancun. Fun in the sun becomes a perilous rescue mission when the navy SEAL saves his beautiful diving partner from an underwater attack. Except Natalie Layne wasn't chosen at random.
Setting herself up as bait is the only way Natalie can find her abducted sister. But all her survival training can't prepare the former SOS agent for the irresistible stranger she has to trust with her life. Giving up isn't an option. Neither is giving into the powerful desire smoldering between them…
Reviewed by ButtonsMom2003
Hot SEALs! Strong heroine!
Natalie is a former Stealth Operations Specialist (SOS) but she left the group to take care of her younger sister when their parents died. Melody is now in college and she disappeared while on a diving excursion in Cancun. The Mexican authorities assume she died in the ocean and have stopped looking for her. Natalie is convinced that she was abducted and contacted her former boss for help in mounting a search and rescue mission.Dutton (Duff) Calloway and his buddies are Navy SEALs on a well-deserved vacation. The last thing they expect to be doing is helping a beautiful women look for her sister. Duff is captivated by Natalie when they first meet and he wants to get to know her better but he is also puzzled by her strange behavior. When Natalie is almost kidnapped on a diving excursion, just like the one Melody was on, Duff manages to save her. When Natalie is furious with Duff for saving her she decides to confess all and confide in him.
This story kept me glued to my ereader until I finished it. There is a nice amount of sexy time and lots of suspense and action. Elle James does a perfect job of describing the events that unfold during this story. We are introduced to a great bunch of Navy SEALs and I'm sure she has stories planned for at least some of them. While this is the start to a new series it is also a standalone read with a happy for now (HFN). I hope we get to see a little more of Natalie and Duff in some of the upcoming books.
*****Reviewed for Xtreme-Delusions*****
♥♥♥♥♥
O Factor:  Spicy
Add to your tbr…