17 September of 2015 by Jean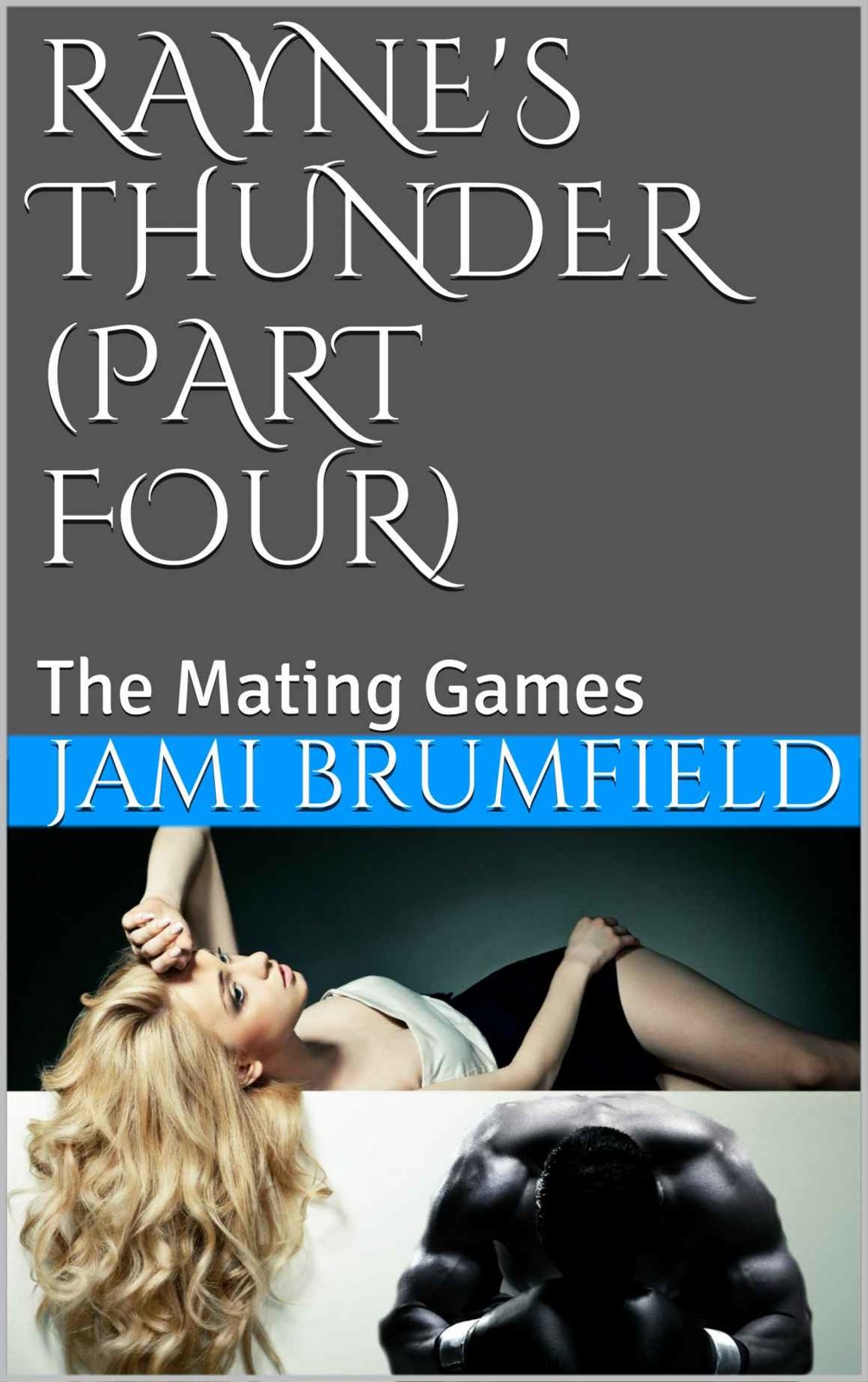 Rayne's Thunder Part Four: The Mating Games By Jami Brumfield
Paranormal Romantic Suspense Serial
Released September 10, 2015
Self-Published
Series: Dating a Werewolf, Book 4
Reviewed by Jean
In this installment of Rayne's Thunder, Rayne has found herself in over her head in a sea of men. These alpha males are hot and ready to settle down. Each one of them competes to win a date with her and everyone tries to outdo the next one.

Eva, the Game Master, does her best to maintain fairness through the process but Rayne fights her at every turn. Will one of the six men who win dates with Rayne Manchester win her heart or is it already taken? Which of the nine competing for her hand in marriage will be sent home? Check out the fourth installment of the popular, highly rated, romantic serial, Rayne's Thunder (part of the Dating a Werewolf Series) today.
And the winners are…
Whew! All caught up and I knew there was a catch 22 to catching up… Now I have to wait for the next one to come out. Sometimes as readers, we can be so impatient. My anticipation of this one was great. I couldn't wait to find out how these mating games were run. I won't elaborate because ummm, that would be a spoiler. Let's just say they weren't exactly what I expected and that isn't a bad thing at all. It allows for a few twists and turns. So please excuse a little plagiarism of my previous reviews as I explain the background for the series and then I'll be more specific to this installment.Rayne's father died recently and at the reading of the will her and her siblings find out that they ALL have one year to mate or they lose the estate and subsequently the pack leadership along with it. If dad's demands weren't bad enough, he's provided a list of suitable candidates for each of them. This series is about Rayne's subsequent dating of her father's choices for her. As things unwind, I have to wonder if dad had a clue or if perhaps in presenting so many Mr. Wrongs if he wasn't in fact steering Rayne towards Mr. Right. Part Four: The Mating Games is Rayne's attempt at expediting the dating process to find Mr. Right. After all, at the rate she is going the year will be over all too soon and who knows if she will be any closer to finding him. Right? Inviting all of the eligible bachelors at one time and getting to know them in one fell swoop seems logical. That is until she is introduced to the Game Master, Eva. This woman isn't about to let her have any opportunity to really get to know the competitors. Grrr, can you say frustrating?
I've found I really like Rayne. She can be rather feisty, particularly when it comes to dealing with Storm, her brother's enforcer. She doesn't like being condescended to or treated like a child. She can be funny and she's very loving and loyal to her friends and family. Now it is time for her to grow up perhaps a bit. All of her hopes were pinned on getting to know her beaus a bit more quickly with the Mating Games. Only that isn't the intent apparently. She is thwarted at every attempt to talk with any of them unless they win a competition and she's being told she has to send losers home without getting to know them in the slightest. How the heck is she supposed to make those kinds of decisions? Needless to say this has her and Eva butting heads on issues. Unfortunately, there is a contract for the games and she's stuck with the rules.
Competing for her hand are: Lincoln, returning veterinarian, Brick, returning chef, Eric Christianson, a rodeo champ rancher, Storm, her nemesis, James Frank along with his siblings, Grayson Drake, the requisite bad boy, Julius, a pack enforcer, Simon Blake, computer nerd extraordinaire, and finally Victor, a singer/songwriter and poet. Quite an assortment and it leaves you wondering just what the prerequisites were that her father established, other than hot werewolves that each stir her blood that are well established in their packs. To top it off, if her dream lover was to be believed, one of them would prove to be him. The competitions are interesting, the results unexpected and the dates enjoyable. The dream lover rears his head and leaves no question as to who he is with just a bit of a twist. In the end, Rayne is left with the undesired responsibility of sending someone home. I guess that's part of growing up too. As things would have it, she's more than up to the task and her decisions leave you feeling proud of her decisiveness. I'm really looking forward to the next rounds of eliminations. Of course, I'm still rooting for Storm. That boy just says me, me all over him.
Rayne's Thunder is a great series. To think we have Rhyme and River's trials yet to go. This is going to be fun. Oh, lest I forget the overall story arch of rebels and such is still there just not as prominent in this one. Although they are still causing difficulties for the Manchesters and their allies. I'm sure we'll be seeing more on that front as the series unwinds. This is one paranormal I think you'll enjoy. While all of them are standalones I would really recommend reading them all in order.
♥♥♥♥
.
O Factor: Sweet
Rayne's Thunder Part One: Master Chef
Rayne's Thunder Part Two: The Veterinarian
Rayne's Thunder Part Three: The Politician and the Witches
Rayne's Thunder Part Four: The Mating Games
Rayne's Thunder Part Five: The Battle begins and the Games Continue
Rayne's Thunder Part Six: Alpha's Call
Rayne's Thunder Part Four: The Mating Games