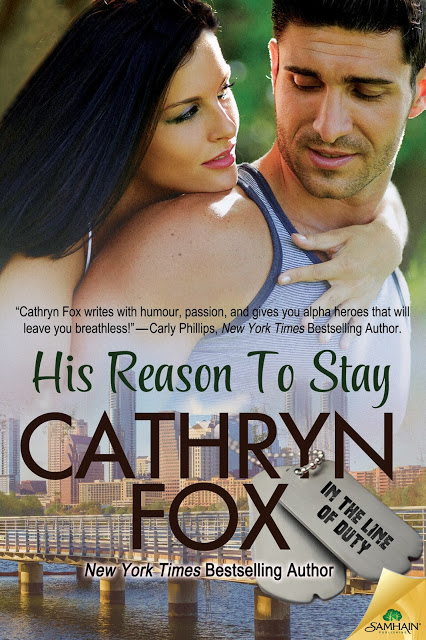 His Reason To Stay By Cathryn Fox
Contemporary Military Romance
Released February 16, 2016
Samhain Publishing Ltd.
Series: In the Line of Duty, Book #6

They made one beautiful mistake. The consequences could haunt them for life.
In the Line of Duty, Book 6
From the moment the Nelson brothers took a lonely young girl from the wrong side of the tracks under their wing, Rachel Andrews loved them both with all her heart. But it was James who won her hand.
Now widowed, she's trying to pick up the pieces for her daughter's sake as well as her own, but once again loneliness is her closest friend—until James's brother comes back to town. The man she secretly wishes had asked her first.
Army ammunitions expert Kyle Nelson would rather face live fire than face the raw reminder that the woman he loved chose his brother over him, but he's tired of running. And ready to step up to be the man everyone needs him to be—especially the young niece he's never met.
As time runs short before Kyle ships out again, the desire Kyle and Rachel have suppressed breaks free in a fiery rush. Tempting her to reveal a secret that could give him a reason to stay—or burn their love to ash.
Warning: Contains a hot military man who will steal your panties as well as your heart.

Reviewed by Deb
Hot Second Chance Romance!
His Reason To Stay is book 5 in Cathryn Fox's In the Line of Duty series. I'm kicking myself for not having discovered Cathryn Fox until now! Each book in this series can be read as a standalone so don't worry about feeling left in the dark about characters or plot points. Ms. Fox's writing style grabbed hold of me immediately and I could not put this book down. The characters are beautifully developed, the pace is perfect, and the story flows smoothly. There are just enough twists and turns to make you wonder what's going to happen without things getting too convoluted and frustrating. I'm certain most readers will figure out the main twisty turny early on, however, the big question for me was How is she going to handle this?
When Rachel Andrews moves to Austin sophomore year in high school, she becomes fast friends with brothers James and Kyle Nelson. Friendship grows and deeper feelings develop. Although the boys are only 18 months apart, Kyle thinks the world of his "older" brother, taking a back seat in virtually everything to allow James to shine. When James changes the game and begins dating Rachel senior year, Kyle swallows his hurt and steps aside. Rachel is not only shocked when James proposes, she's a bit heartbroken that Kyle enlists in the Army immediately after graduation. She knows some may think it's wrong, but she loves both brothers equally. Kyle stays away from Austin not merely because of his career but because it's too painful to see his brother with the girl he loves.
His Reason To Stay really gets going two years after James' sudden death. On leave for a few weeks, Kyle returns to Austin. The last time he saw Rachel and his niece Ava was at James' funeral. It may not be the wisest thing to do considering he's never stopped loving Rachel, but he owes it to James to make sure the girls are doing well.
I absolutely love how Ms. Fox handled Rachel and Kyle's story. She shows that it is indeed possible to be in love with two people at the same time. Rachel loved James with all her heart, and had he not died she would have been happy to live out her days with him. However, her sadness that Kyle felt the need to disappear from their lives never diminished. Nor did her love for him. As soon as Rachel sees Kyle the old feelings are unleashed, stronger than ever.
I fell hard for Rachel and Kyle. They are both selfless people who love with complete heart and soul. Rachel is fun, witty, down-to-earth, and has a very believable relationship with Ava. Rachel is overwhelmed by the emotion Kyle has stirred up and wants him in her life again. She's been a single mom for two years. Although she loved James deeply, she's missed Kyle more than she realized. The only problem is how to convince Kyle it's not a betrayal for them to be together. When Ava's day care falls through for the week, Kyle volunteers to babysit. Annnnd, here we go!
Kyle is one hot hunk of man. He may be working hard to convince himself it's wrong to make a move on Rachel, but he's not fooling anyone. He's held back his true feelings for so long he's about to explode. So when he volunteers to take care of Ava for the week, he's just doing a favor for Rachel, right? He quickly settles into a routine of fixing things around the house, and getting to know his niece. Oh my gosh, Kyle is adorable with Ava! Who, by the way, steals the show quite a few times. She's a typical four year old in most ways, but she's also a total crack up.The more Rachel sees the two of them together, the deeper she falls for Kyle. The sexual tension between these two crackles, sparks, and sets the pages on fire. Ms. Fox is a master at crafting some of the hottest scenes I've ever read. And, I've been around the block when it comes to sex scenes.
His Reason To Stay is a beautiful love story. The writing is top notch, the characters believable, and the chemistry between Rachel and Kyle is phenomenal. I might have read those particular scenes more than once. If you don't melt at the interactions between Ava and Kyle someone needs to check your vitals. I loved everything about this story, and I'll be checking out the other books in this series.
♥♥♥♥
O Factor: Spicy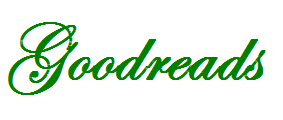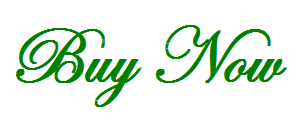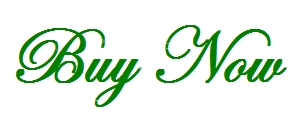 ♥ All Romance eBooks ♥ Amazon US ♥ Amazon AU ♥ Amazon CA ♥ Amazon DE ♥ Amazon ES ♥ Amazon FR ♥ Amazon IT ♥ Amazon UK ♥ Barnes & Noble ♥ Book Depository ♥ Kobo US ♥ Kobo CA ♥ Kobo UK ♥


His Obsession Next Door, Book #1
His Trouble In Tallulah, Book #2
His Taste of Temptation, Book #3
His Moment To Steal, Book #4
His Best Friend's Girl, Book #5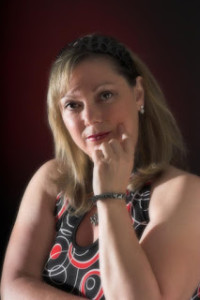 New York Time and USA Today Bestselling author Cathryn Fox is a multi published author in the romance genre under two pen names.  Cathryn is a wife, mom, sister, daughter, and friend. She loves dogs, sunny weather, anything chocolate (she never says no to a brownie) pizza and red wine. She has two teenagers who keep her busy with their never ending activities, and a husband who is convinced he can turn her into a mixed martial arts fan. Cathryn can never find balance in her life, is always trying to find time to go to the gym, can never keep up with emails, Facebook or Twitter and tries to write page-turning books that her readers will love.