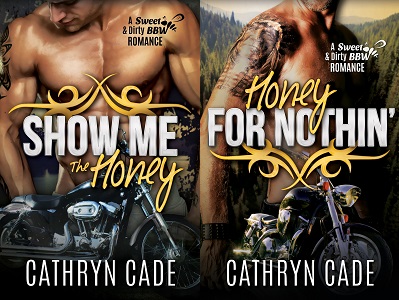 Cathryn Cade Knows How To Dish Out HOT!
Jean and I don't usually post reviews for the same book.   We have similar taste in books, but it's just different enough to prevent any hair pulling or catfighting about who gets what book when it comes to ARC's.  That being said, when we do have some spare time to just read (stop laughing, Jean), we tend to grab a book or novella from the already reviewed stash.  I know if Jean loved it, it's a sure thing for me.
That's why I'm giving you my enthusiastic thumbs-up thoughts about the first two books in Cathryn Cade's Sweet & Dirty BBW Romance series:  Show Me The Honey, and Honey For Nothin'.  It's not because I found a chunk of free time during which to read them.  I created a chunk of time.  Who needs clean clothes, right?  Just take a gander at these stunning covers!  If those alone don't make you want to stop what you're doing and grab these books, then read the blurbs.  I guarantee you will forget all about clean clothes, dinner, or whether the kids have done their homework.  I'm also hoping to plant a psychic message in Ms. Cade's brain to get busy on book 3 because I need it.  Like yesterday.
When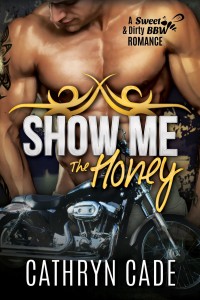 a small town cafe owner is grabbed by a rambling biker looking for nearly a million in stolen cash, she must convince him to let her go. But finding out he has the wrong woman only makes him more determined to hang onto her … this time for all the right reasons.

Lindi Carson has no time for romance in her life–not when she's scrambling to make a success of her Coeur d'Alene Lake shore café. She's barely keeping her head above water when biker Jack Moran hits town, sure she knows where to find nearly a million in stolen cash. When Jack grabs her, Lindi must convince him he has the wrong woman.

But Jack's not the only one after the money, and someone is willing to kill to get it. With murder lurking in this idyllic resort town and a dangerous MC on the prowl, Jack must persuade Lindi she belongs not only under his protection … but in his arms. He'll use every ounce of his rough charm to get her, but he may have to battle old ghosts to keep her there.  Can he convince her that love's sweetness is worth the sting?
Lindi Carson's BeeHive Cafe is gaining a reputation for serving up the best breakfasts in the Coeur d' Alene Lake area.  I absolutely love stories featuring restaurants, chefs, food, you name it.  Ms. Cade did a fab job creating a charming atmosphere and had me imagining the mouthwatering smells of pancakes, maple syrup, and coffee in this cute, tiny retro diner with its yellow Formica counters.  Lindi has a small group of loyal local customers and enough tourists to keep the BeeHive afloat.  Just barely.  So when a gorgeous, sexy, hotter than hot Harley riding hunk kidnaps her and demands to know where the money is…well Lindi's confused.  What money?  If she had money she wouldn't be working her ass off.  Okay, her ass could stand to lose some acreage but that's beside the point.
Oh my goodness, Jack had me drooling from the moment he swings his leg over the bike and saunters into the BeeHive!  Ms. Cade knows how to create a man!  It's not only adorable it's lots of fun to watch Lindi get flustered by Jack.  And the feeling is mutual.  Jack is here on business but damn, that woman and her curves.  The cute way she blushes at his comments.  He's getting all hot and bothered himself.  But when her spidey senses suddenly shout Danger! Lindi is fast.  Too bad Jack is faster.  Lindi finds herself tossed into a van and on her way to who knows where.  With a man that has her heart pounding and her libido in overdrive.  Which has her, even more, confused than the money thing because this guy just kidnapped her!  Shouldn't she be scared out of her mind instead of ready to rip her clothes off?
I loved, loved, loved Lindi.  She's comfortable in her own skin, she accepts who she is and what fate has dealt her.  She stands up to these kidnappers and tells it to them straight.  So when the facts are figured out, and Lindi learns the real story, she can breathe a sigh of relief.  Or can she?  Jack and his buddy aren't the only ones who are looking for that money.  Jack can't just walk away and leave her when he knows she might be in real danger.  Yep, that's it.  He can't in all good conscience leave her like a lamb in the woods, can he?  And if he gets to sample some of those luscious curves…
Jack is a decent guy.  In fact, he's more than decent.  He's all alpha male bent on protecting what's his, and after day one he's decided that Lindi is his.  Mmm, mmm, mmm that man has some hot as hell moves that will melt the panties right off of you.  Er, I mean Lindi.  His dirty talk made me all tingly.  On top of all that he's sweet and, he wants more than a fling.  He just has to convince Lindi.
Show Me The Honey is fast-paced, full of fun, sprinkled with suspense, and best of all the story and characters are stellar.  I tackled that pile of dirty clothes with a sweet smile on my face, that's for sure.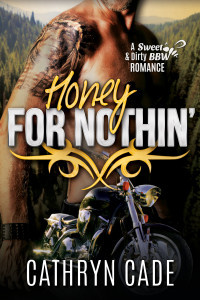 Sweet & Dirty BBW Romance #2
featuring Keys, Kit & Remi in a red hot ménage romance.
 
Kit hates making choices–life has taught her she makes all the wrong ones. So what's a BBW redhead to do when she must choose between two hot bikers?
 
Kit Weeks is on the run from a sadistic biker who wants to own her. Keys Younger is a man who's finally put down roots in the North Idaho woods. Remington Red Hawk is a man with no tribe and no home, searching for a place to belong.
 
When the BBW redhead is forced to hide out at Keys' auto-restoration shop, passion hotter than his welding torch flames between them. But Kit can't trust a man who calls her pursuer 'brother'. And Keys has had too many temporary lovers to settle for less than all in from the woman he wants.
 
Remi wants both of them. When he moves in, should Kit move on? If she stays, what will she have to do to deserve both of them? And her choice must be made as danger brews in the biker brotherhood.
 
Her alpha heroes must prove to her that when she chooses them both, just for being herself she deserves all that's sweetest in life … honey for nothin'.
Honey For Nothin' picks up pretty much right after Show Me The Honey and, while it's not necessary to read them in order, I highly recommend it.  Trust me, your experience will be immensely enhanced.  You see, we meet Keys in book 1 and we meet Kit there as well.  And, since Jack and Keys are best buds, and Lindi and Kit are best gal pals, it just makes sense to read book 1 first.  The new guy in town is Remi, a very low profile, sotto voce, dazzling Native American cook now working for Lindi at the BeeHive.
Now that Jack and Lindi are a couple, Keys has decided to hang his Harley helmet (not that he actually wears a helmet) in Coeur d' Alene for good.  He likes the peace and quiet, the solitude, and he and Jack are roving members of the local MC, the Devil's Flyers.  Not patched in but nonetheless affiliated.  Keys is a player and makes no excuses about it.  He loves women, treats them like princesses, and shows them the utmost respect but he's not looking for long term or an old lady.  He's happy for Jack, it's just not his style.
Kit is absolutely unique and I loved her for all her zaniness.  The things that come out of her mouth are goofy and priceless!  She's a wiz at math but her use of vocabulary words leaves everyone scratching their heads.  She's had a tough life, growing up with a biker groupie mom who dragged her along from man to man, staying until they were kicked out.  Kit is worn out and worn down by all of it and the latest mess is the last straw.  Her mom has promised Kit to Bouncer, the nastiest, most skeevy Devil's Flyer, all to ensure a roof over their heads.  Kit's not having any of that shit so she runs off to hide with Lindi and Jack.  Kit's working at the BeeHive if you can call it working.  She sucks at waitressing.  Which is hilarious in its own right.  The only good thing about working for Lindi is Remi, the stunner cook whose knife skills are swoon worthy sexy.  Remi is developing quite the crush on Kit and the electricity between these two sizzles big time.
Things all come together the day Keys walks into the BeeHive and lays eyes on Kit.  From her stunning red hair to her mouth watering curves she's everything Keys imagines to be the perfect woman.  Keys is not only surprised, he's utterly turned on to see the attraction between Remi and Kit.  Keys and Remi swing both ways and he and Remi have had some hot times together.  Imagine how fantastic it could be to add Kit to the mix!  Which is just what happens when Bouncer asserts himself and demands what Kit's mom promised him.  Keys and Remi whisk Kit off to the safety of the mountain where Keys has his custom car shop.
The chemistry between these three gave me envious goose bumps.  It's not all smooth sailing as they work out the kinks (no pun intended) of managing a menage relationship.  Once again Ms. Cade has written a fast-paced, hotter than hell story with the added element of suspense and danger.  Her characters are perfectly developed, as is the story.  I'm anxiously awaiting the next book which, if hints within book 2 are anything to go by, is going to be amazing!
You can read Jean's review of Show Me The Honey, here.
You can read Jean's review of Honey For Nothin' here.
Show Me the Honey, Book 1
Honey for Nothin', Book 2