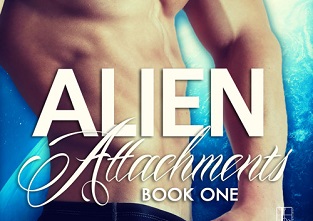 15 January of 2016 by Jean
A forbidden love written in the stars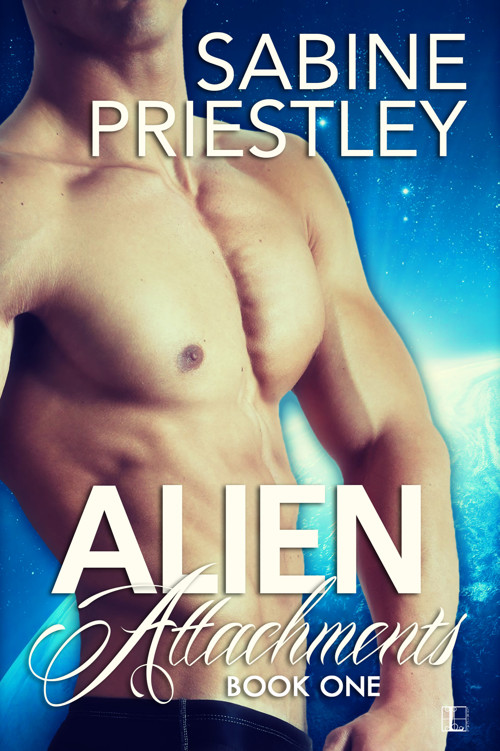 Alien Attachment By Sabine Priestley
SyFy Romance
Released August 18, 2014
Lyrical Press
Series: Alien Attachments Series, Book 1
Reviewed by Jean
Award winning Science Fiction Alien Romance.
Will their love be strong enough to keep them alive during the fall of the galactic empire?

Finding one's psi-mate is something every Sandarian hopes for, but when Ian Cavacent accidentally starts the bonding process with the Earthling, Dani, he has to fight his desire with every ounce of his being. If the process is completed, it means both political and financial suicide for Ian and his family.

A natural klutz, Dani somehow always manages to land on her feet and win her mixed martial arts matches. At home on Cat Island, her balance is thrown when bazillionaire Ian takes notice. Unfortunately some Torog aliens also take notice, sending her life spiraling out of control and into Ian's arms. But Dani isn't the type of woman to let alien voodoo decide her future or her mate…no matter how gorgeous the man is or how much pleasure he gives her.

For centuries the Cavacents have mined Earth for a precious element, carnium, while protecting the planet from other alien species. Thanks to the Torogs, Dani and Ian must flee to Sandaria. As Dani learns to use her newfound psi powers, the empire crumbles around them.
A forbidden love written in the stars
Alien Attachment is my first exposure to the writings of Sabine Priestley, an exposure I totally enjoyed. Anyone that knows me is aware that I have an affinity for sci-fi romance. I absolutely love the escape possibilities inherent in an alien world. Talk about a vacation your imagination can take you on. In the case of Alien Attachments, the vacation is to the world of Sandaria, the primary home of Ian Cavacent. Also, the home world of the Emperor for the galactic empire, an empire on the verge of falling apart.
Ian is the heir to the Cavacent legacy. His family has owned the rights to mining a rare ore from the Earth that allows FTL travel throughout the galaxy. At the same time they are the protectors of Earth's clueless inhabitants. For the most part, the travel between his home world of Sandaria and Earth is made via portals. His home on Cat Island is the location of the main portal on Earth, but not the only one. He keeps a team of EPs (Earth Protectors) employed as well as human SAs (Support Agents.) His association with these earth dwellers can be quite entertaining and enlightening. Point in fact, watching his SA Jared's friend Dani compete in the mixed arts fight ring. She is pure clumsy and yet she unfailingly manages to win time and again. Her latest fight, however, has ended in a few injuries that has Jared asking Ian to use his psi to relieve her pain. The only problem is the minute he touches her their psi starts to bond.
That's a big problem because… ahem… humans don't have psi. Well they aren't supposed to have psi and this human appears to be his psi-mate and her psi is off the charts strong and untrained. She's also forbidden if he doesn't want to commit political suicide and irreparably damage his family's finances. No sooner does he discover this than Torogs are attempting to capture her and assassinate him. A quick getaway sees them off to the questionable safety of Sandaria. Everything soon becomes about avoiding Dani and the potential bond developing between them. The building unrest on Sandaria could prove their undoing or it could very well prove just what this relationship needs.
Dani is a well-traveled photojournalist and mixed arts fighter. She moved to Cat Island to live with her aunt after her parents deaths in a plane crash in her teens. As a teen, she used to work in Jared's bar. Little did she know that Jared was a support agent for aliens. That is until she found herself in the middle of a shootout and chased by ugly blue-blooded aliens. To top that off she finds herself drawn to Jared's boss, Ian. The man literally sets her system to buzzing. When she's told that she has psi abilities it comes as a bit of a shock but she's a real trouper when it comes to adjusting her life to it's new realities. The one thing she could do without though is the rude standoffishness of Ian and his father. You'd think after saving his life he'd be just a bit more thankful.
Alien Attachments has that whole forbidden love angle with plenty of chemistry and tension waiting for a culmination. Dani and Ian are like oil and water on the outside but inside the two are like interlocking puzzle pieces. Both are avoiding a relationship, if for totally different reasons. But the power of their psi bond will eventually win out. Alien Attachments promises to be a great series and I'm looking forward to reading the others in the series. If you like sci-fi romance, action, adventure and aliens this one is sure to please.
♥♥♥♥
O Factor: Spicy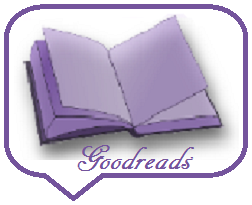 Alien Attachment, Book 1
Rebellion, Book 2
Liberation, Book 3
Alien Bond, Book 3.5
Alien Attachment, Book 1