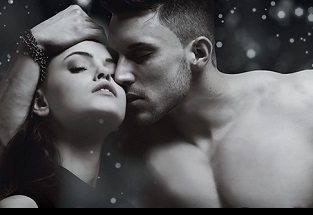 11 November of 2015 by Jean
Innocent, intriguing, suspenseful, heart wrenching and off the charts scorching!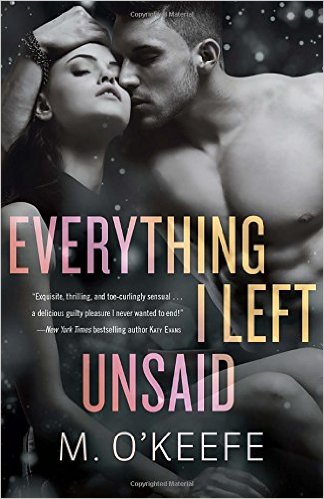 Everything I Left Unsaid By M. O'Keefe
Erotic Romantic Suspense
Released October 13, 2015
Bantam
Series: Everything I Left Unsaid, Book 1
Reviewed by Jean
Fans of Jodi Ellen Malpas, K. Bromberg, and Joanna Wylde will be unable to resist this sexy, deeply intimate tale of a woman running from her past, and the darkly mysterious man who sets her free.

I didn't think answering someone else's cellphone would change my life. But the stranger with the low, deep voice on the other end of the line tempted me, awakened my body, set me on fire. He was looking for someone else. Instead he found me.

And I found a hot, secret world where I felt alive for the first time.

His name was Dylan, and, strangely, he made me feel safe. Desired. Compelled. Every dark thing he asked me to do, I did. Without question. I longed to meet him, but we were both keeping secrets. And mine were dangerous. If I took the first step, if I got closer to Dylan—emotionally, physically—then I wouldn't be hiding anymore. I would be exposed, with nothing left to surrender but the truth. And my truth could hurt us both.
Innocent, intriguing, suspenseful, heart wrenching and off the charts scorching!
Ever had those moments on a call with a stranger that just rocked you to the core? Well, reading Everything I Left Unsaid brought me back to a few of those moments. Everything about this stranger becomes safe and compelling especially those desires we keep hidden in the dark recesses of our mind. After all, what could be safer than to indulge when there is no one there to see or to really know… no one but you and your stranger?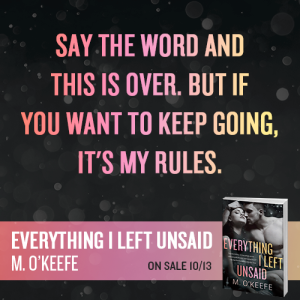 Annie is about to find out just how liberating a call from a stranger on an abandoned cell phone can be. On the run from her past, Annie has plenty of secrets to keep. But who is this man who keeps her intrigued and on pins and needles needing to hear his next demand? Life has definitely become interesting in this backwoods trailer park Annie has run to. In all her innocence she never dreamed she'd be claiming her cousin Layla's identity and taking on her carefree sexually adventurous persona. Nor did she expect she'd be playing spy on her neighbor for the mysterious voice on the phone. All she knows about the voice is that it belongs to a man named Dylan and his voice does things to her that have never happened before.
Dylan is a hardcore race car engineer that's made it big… big enough to own his own side of the mountain. He's got a past and he's a bit incredulous at times that Layla doesn't know who he is or that she can be quite as innocent and almost virginal as she sounds. She intrigues him. She also keeps him up thinking about the next time she'll call. But if she should ever find out who he is or about his past then they are done. At least that's what he tells himself… Oh, the lies we tell ourselves. This is one man that is hooked, reel, line, and sinker… he is so done for.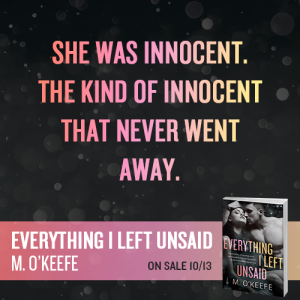 Getting to know Annie and her brand of innocence was a real treat. Sometimes it's hard to recall those days when you yourself were ever so innocent. At the same time, you see an underpinning of vulnerability with a healthy dose of strength to turn things around. Everything I Left Unsaid deals with some hard-hitting abuse issues and the way some victims deal with it. Ms. O'Keefe was spot on in her presentation of the issue. At the same time, this was definitely a coming of age story… even if a bit later in life than one would expect. Hence that overwhelming sense of innocence you get from Annie. That sense of innocence juxtaposed against the very carnal calls these two have definitely hit the scorch meter. Everything I Left Unsaid definitely left me wanting more. It ended on an HFN with a bit of a cliffhanger when Annie's past comes calling. This is one cliffhanger that will certainly see me picking up the next in the series, The Truth About Him.
Review copy provided via Net Galley in exchange for an honest review.
♥♥♥♥♥
O Factor: Scorcher
The Truth About Him, Book 2: Coming November 24, 2015
Everything I Left Unsaid, Book 1